The Oakmont Event Center
 EagleSticks Golf Club is so proud to offer  "The Oakmont Event Center".   The Oakmont Event Center offers all of the solutions you need for the wedding of your dreams.  "The Oakmont" overlooks our Nationally acclaimed golf course while sitting adjacent to a formal garden with ponds, waterfalls and blooming flowers.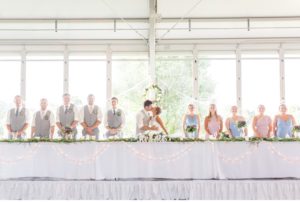 Just picture it.  The Oakmont is decorated for your wedding reception, the staff is on the veranda of the Oakmont ready to serve drinks for your cocktail hour, and up to 350 guests sit just 100 feet away as you prepare to walk down the aisle and get married under our beautiful Amish built Shelter.
Click Here for More Information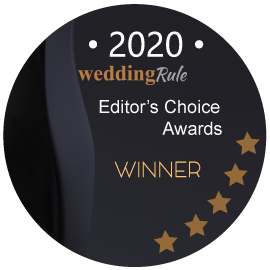 The Details:
Amish Shelter is available for your ceremony.  Seating up to 350 ppl. with the option for additional seating on the patio area.
"The Oakmont" Seating up to 300 guests in full heat or air condition.
1200 square foot veranda for your cocktail hour.
Glass walls allow your guests to view the beautiful surroundings.
Full catering available through EagleSticks or ability to contract outside catering.
Event coordinator to guide you through your day.
Bridal Suite available.
Easy access parking for all of your guests.
Conveniently located near I-70.
Proven Experience.  Over 1,000 couples have tied the knot at EagleSticks.
Click Here for More Information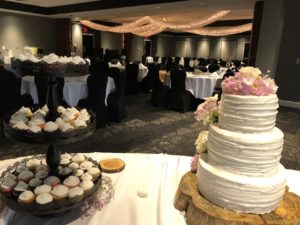 Our professional staff has years of wedding experience, which means you can count on us to make sure that all of your wedding plans are taken care of, right down to the tiniest of details. Our wide array of reception areas include a spacious patio which can accommodate groups as large a 200, while our restaurant and banquet rooms can accommodate smaller groups.
Our years of culinary excellence assure virtually limitless catering options for your wedding. Our popular wedding buffet menus provide you with a broad choice of delicious food served in a creative way that will enchant your guests. We specialize in beautiful cakes for weddings, birthdays, anniversaries and other special occasions. Weddings are once-in-a-lifetime events that we take very seriously at EagleSticks.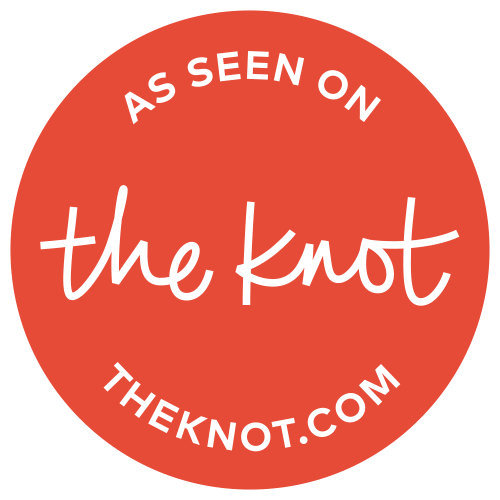 Click Here for More Information
Our friendly, courteous staff will help you with all the details, from the initial planning stages right down to the final send-off. Our goal is to put together a truly unforgettable experience for the bride and groom and an absolutely captivating day for your guests.
EagleSticks has multiple venues which can accommodate almost any size event from 40 to 400 guests.
For Small intimate groups, the "Pinehurst Room" will seat groups as small as 30 to as large as 75.  This quaint room offers a fireplace for a very romantic feel.
The "August Room" is also for small intimate groups, but offers a more contemporary feel.  The Augusta Room will seat up to 60 guests.
On the upper level of our clubhouse is our "Hogan Room" which will seat as many as 175, but also offers the option for additional guests on the adjoining veranda which overlooks our nationally recognized golf course.  
The "Oakmont Event Center" opened in 2019 and can seat as many as 400 guests.  This sleek venue offers an outdoor feel with the large glass walls that overlook the nationally recognized golf course and the formal gardens and waterfalls located just a few feet away from your guests.
Each of these reception venues offer their very own outdoor ceremony location, each with a unique feel and charm.
Venue Rental Fees
| | | | |
| --- | --- | --- | --- |
|   | Friday | Saturday | Sunday |
| The Oakmont Event Center | $3900 | $4900 | $3900 |
| The Hogan Room | $700 | $1200 | $400 |
| The Pinehurst Room | $300 | $500 | $250 |
| The Augusta Room | $250 | $400 | $200 |
The "Oakmont" is our only venue that offers the flexibility for an outside catering source.  While EagleSticks does offer catering options for all of our venues, it is not required of the client with the rental of "The Oakmont".
All other venues require a catering package from EagleSticks Golf Club.  We have options available to fit almost any budget.
To see our rental and catering policies Click Here!
. . .